The resurgence of Y2K beauty and euphoria inspired makeup are taking 2022 makeup trends to a whole new level. So, unzip your makeup bag and grab your favourite brushes because we've compiled some gorgeous makeup trends for your peepers!
If You Want a Brighter, Wider Gaze: The Double Winged Liner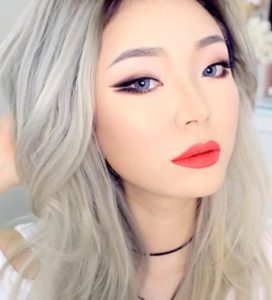 Credit: @xtianaland
The double winged eyeliner can simply be described as the classic cat eye liner with an extension from the bottom lash line. The effects however, are anything but simple: your eyes appear bigger, more feminine, and almost doll-like. The best part of this look is (with a little bit of practice, of course) that it works with all sorts of eye shapes, face types, skin types – and most importantly, looks stunning in pictures!
If you're looking to spice up your double winged look, give these a try: Use a white eyeliner to highlight the space between the two wings, or swap out the black eyeliner with colors that would work well with your eye color.
If You Want Your Eyes to Appear Bigger: The Negative Space Eyeliner Style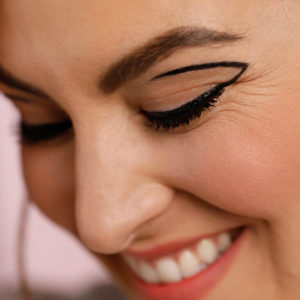 Elevate your eyeliner game to a whole new level by leaving a blank space between your lashes and the outside edges of your flick. To put it simply, it's like a cat eye that hasn't been filled. Perhaps if you're feeling fabulous you can fill the negative space with glitter and pair the look with mascara. Now, you're ready to paint the town red.
Don't forget to use easy-to-glide eyeliners with felt-tip liners to avoid tugging the skin around your eyes. The skin around our eyes is the thinnest and most fragile, and is thus more likely to show signs of ageing.
If You Want To Be Adventurous: The Neon Eyeliner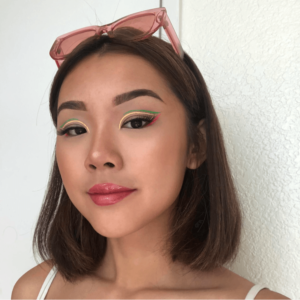 Credit: @sourandnasty
Have a go at this makeup trend if you are feeling adventurous. These neon eyeliners are bright and bold so get creative! Using a colour that complements your eye colour, you can outline your eyelids for a pop-art effect. If you want to be extra, you can add on a thin white line in the middle of your applied neon eyeliner to create a 'glow' effect. If you are going all out, you can even line your lips with the same eyeliner for a matching look!
This look is great if you feel like jazzing your style up without the extra effort of blending and perfecting your eyeshadow.
If You Want to Look More Elaborate: The Inner-Eye Accent Style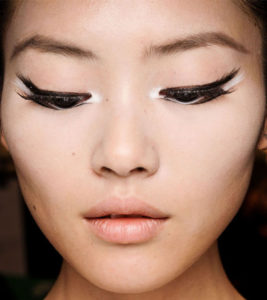 You might have noticed your favorite celebrities gracing the red carpet with eye-catching inner-eye accents from Zendaya to Gigi Hadid. Create this style on your own by applying your eyeshadow in an inverted direction on the inner corners of your eye. This chic style won't take much time to pull off, helps shift the focus away from any dark circles you want to hide with the added bonus of drawing attention to the center of your eyes.
For that extra style points, you can take this accent one step further and do a gradient. Use complementary colours like blue for your inner eyes and a dark violet pigment for your eye shadow and blend away! Don't forget to add on some glitter for that sparkle!
Eyeliners are great way to enhance your eyes, but if you are looking to smoothen wrinkles in your eye area and achieve brighter looking eyes, check out the MASJ Enchanting Eye Treatment Package or you can speak to a professional doctor today to find out more about the treatments suitable for you!