Even if you're happy with the looks you were born with, there's nothing wrong with enhancing them for a boost of self-confidence. Today, we're speaking to Dr Lim Ting Song of Clique Clinic about his job as an aesthetic doctor, the treatments he did for Malaysian celebrity Goh Wee Ping, as well as advice for patients new to aesthetic treatments.
Q: Can you introduce yourself? 
A: I am an aesthetic Physician running a private practice in Kuala Lumpur, doing face and body aesthetic treatments for the past 11 years. Aesthetic medicine is unique as it is artisanal but at the same time requires the use of science, logic, creative thinking and problem solving. For me, finding solutions to help my clients solve concerns is not only exhilarating, but can be very satisfying once you manage to crack the code and get great results. I think I am a people person; I like connecting to my patients, helping them stay youthful-looking and attractive.
Q: What is your definition of beauty?
A: Beauty can be defined as pleasant looking, an attractiveness which can be both subjective and universal. Of course, there would be certain preferences as the saying goes, "Beauty is in the eyes of the beholder". Everybody has their own natural beauty and should always seek to be a better version of themselves.
Q: What is your advice for patients who are new to aesthetic treatments?
A: Find a doctor who is able to understand and determine the cause of your concerns, investigate any structural changes involving the area of concern, explore acceptable solutions and explain the reasons behind recommended approaches or treatments. It's important for your doctor to set realistic goals and at the same time manage your expectations. Post-treatment follow-ups are also vital to ensure proper aftercare is followed, or if any adjustments are needed. In a nutshell, choose a doctor who possesses the right skill set to treat your concerns, has an approach that suits your own needs, and a solid background in terms of safety and efficacy.
Q: Any tips for patients regarding pre- or post-care when undergoing aesthetic treatments?
A: Before your treatment, rest well and keep the skin hydrated with good skincare. Avoid alcohol, caffeine as well as any medication or supplements that could increase chances of bruising. After your treatment, get enough rest to aid healing, avoid exertive exercise and use proper sun protection.
Q: When assessing a patient's features, how do you determine the treatments they NEED versus the treatments they WANT?
A: Most patients come with information about certain treatments and it's important to share the advantages and disadvantages of different treatments, as well as the expected results. It's a good idea to give them the full picture of what can be done, what's impossible and lay out several treatment options for them to choose from. It's important to share our perspective in terms of cost-effectiveness, safety and long-term outcomes of said treatments.
Q: What makes you find fulfillment in the job?
A: When patients share their stories on how they feel better, regain more confidence and how my treatments really made a difference in their lives, it is very rewarding.
Q: Can you elaborate on the aesthetic treatments you did for Wee Ping?
A: Wee Ping wanted to look less tired, but was afraid to look different or done. Based on my initial assessment, we needed to improve his skeletal structure and create a more chiseled jawline with Effortless Beauty dermal fillers. To deal with skin laxity, we utilized microfocused ultrasound with visualization (MFU-V) and Collagen Elastin Intensifer biostimulators to boost collagen production, which resulted in tighter and more lifted skin over time. Last but not least, we also relaxed some facial muscles with a pure* toxin to help soften the appearance of fine lines.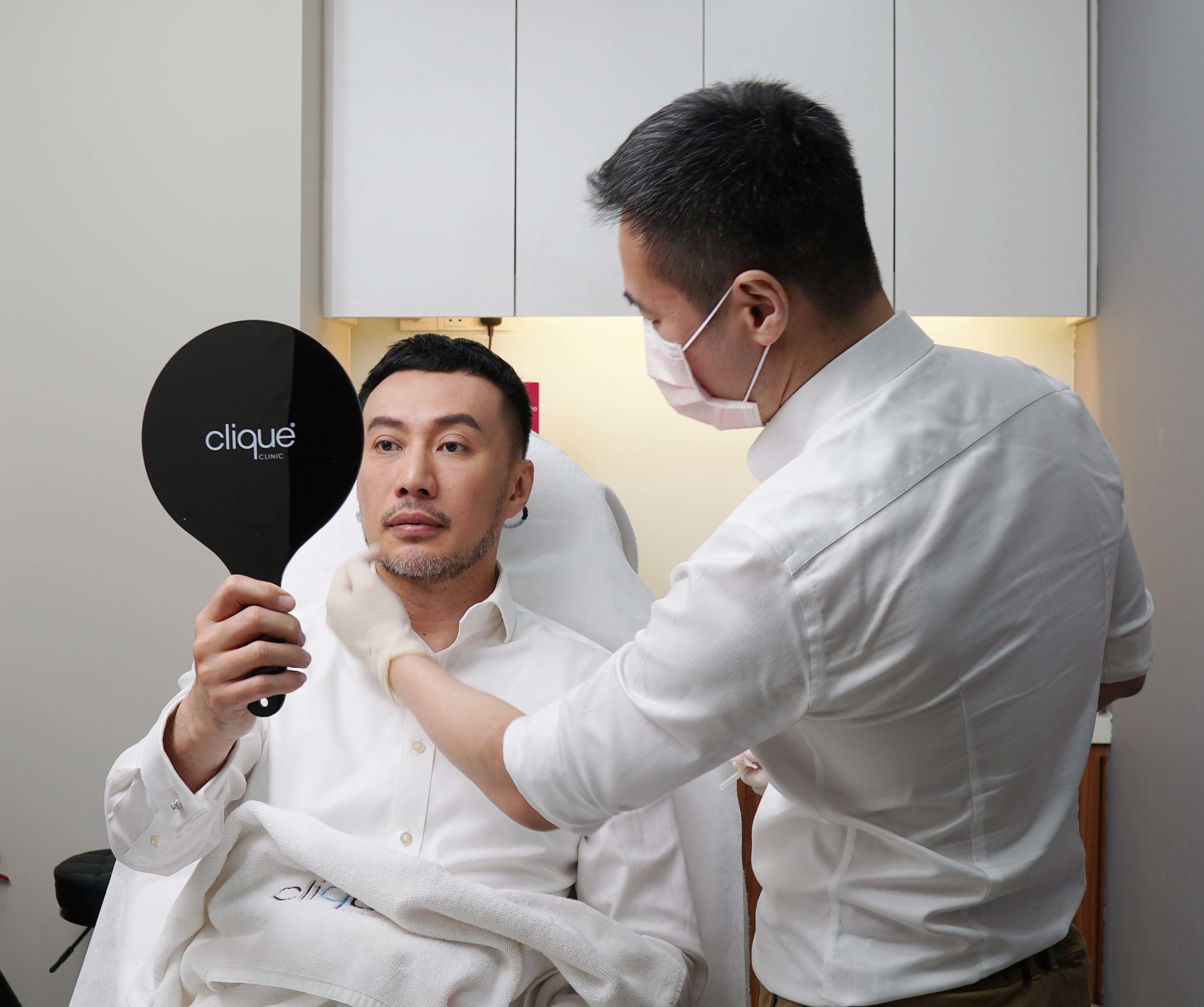 Dr Lim Ting Song assessing Wee Ping's features and explaining how the recommended treatments would help tackle the aesthetic concerns Wee Ping had.
 Q: What are the upcoming trends in the industry you've observed?
A: Treatments with little to no downtime that are comfortable and effective with a natural result. There also seems to be a trend in preventive and maintenance treatments rather than quick fixes.
Q: Do you undergo aesthetic treatments yourself? What are your personal favorite aesthetic treatments?
A: Yes, I do. MFU-V skin tightening treatment, Collagen Elastin Intensifier biostimulators and Effortless Beauty hyaluronic acid fillers are some of my favorite aesthetic treatments.
Looking to start your very own Serendipity Journey to look like the best version of yourself? Find a professional and trusted aesthetic doctor today!

*Pure refers to the absence of complexing proteins, inactive neurotoxin, flagellin and bacterial DNA contaminants¹.
¹Park JY, et al. Neurotoxin impurities: A Review of threats to Efficacy. Plast Reconstr Surg Glob Open. 2020;8(1):e2627